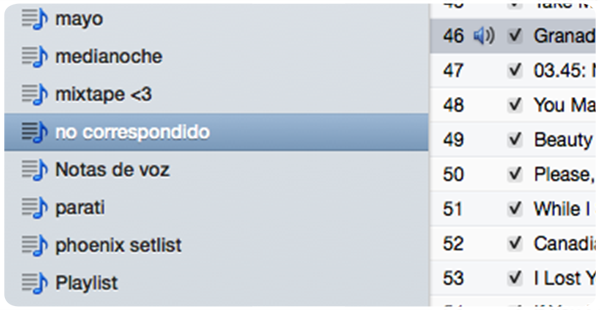 #ChicaLista por Eleonora
Hay una triste belleza en amar a alguien que no te ama. Por ejemplo, uno se pone creativo. Y se escriben poemas, se mandan cartas, se hacen canciones. Y se llora. Pucha que se llora. Éstas son mis canciones favoritas para dedicarle a ese cabro o cabra que no se entrega a ti, aunque uno lo ame con amor verdadero. Canciones favoritas para llorar por ese amor que sólo se entrega y no se recibe.
Say you love me, de Jessie Ware
La canción empieza con la voz de Jessie, cantando bajito, desde lo más profundo de lo profundo "say you love me to my face" (dime que me quieres, a la cara). Y va creciendo de un susurro íntimo a una explosión de sonido y anhelo. Con coro y todo.
Parte favorita: "I want to feel burning flames when you say my name. I want to feel passion flow into my bones, like blood through my veins" (Quiero sentir llamas ardientes cuando dices mi nombre. Quiero sentir la pasión fluir hacia mis huesos, como la sangre por mis venas)
Can't make you love me, de Bonnie Raitt – George Michael – Bon Iver
El himno del no correspondido. Para extra sufrimiento, recomiendo la versión de Bon Iver. (Aunque yo prefiero la de George Michael)
Parte favorita: "I'll close my eyes, then I won't see, the love you don't feel when you're holding me" (Voy a cerrar mis ojos, y así no veré, el amor que no sientes cuando me estás abrazando)
Not in that way, de Sam Smith
La primera vez que escuché este disco, y esta canción en específico, me dieron ganas de que se divorciaran de mí, sólo para escucharlo sintiendo lo que siente el que canta. Así de brígido.
Parte favorita: "I'd never ask you cause deep down I'm certain I know what you'd say, you'd say I'm sorry, believe me, I love you, but not in that way" (Nunca te preguntaría porque muy dentro estoy seguro que sé lo que dirías. Dirías lo siento, créeme, te quiero, pero no de esa manera)
Never ever, de Ciara
Esta canción habla de cuando uno está con alguien, y está todo pasando, pero el otro se hace el rudo y uno está enamorá, gil, ahí, esperando que te digan "yo también" cuando decís te amo. Y tus amigas te dicen "oye ya po, si este loco no te ama ya, nunca te va a amar". Y uno escucha esta canción, y uno dice, bueno si a Ciara no la amaron con ese forro, yo estoy frita. Y te vas. A la oscuridad. A llorar.
Parte favorita: "Baby, I can't help but fantasize, wondering what it might be like, you and I sound so right but I'ma let it go tonight" (No puedo evitar fantasear, preguntarme cómo sería, tú y yo, suena tan correcto, pero voy a dejarte ir esta noche) 
Shiver, de Coldplay
Digan lo que quieran de Coldplay pero esta canción es una maravilla y todavía se me paran los pelos cuando la escucho. Ésta es como pa gritársela en la cara al maldito que no cacha ná que te mueres por él. ATINA PORFA.
Parte favorita: "And it's you I see, but you don't see me. And it's you I hear, so loud and so clear. I sing it loud and clear. And I'll always be waiting for you" (Y eres tú a quien veo, pero tú no me ves a mí. Y eres tú a quien escucho, tan fuerte y tan claro. Lo canto fuerte y claro. Siempre estaré esperando por ti)
Ésas vendrían siendo mis favoritas, pero así como para que vayan haciendo la lista de reproducción se me ocurren más: "For what it's worth" de The Cardigans, "We might be dead by tomorrow" de Soko, "Maps" de Yeah Yeah Yeahs, "Detlef Shrempf" de Band of Horses, "Meet me by the water" de Rachel Yamagata, y, uf, tantas más.
Aporten sus canciones de sufrimiento para hacer una gran lista llorona.